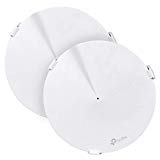 Although Wi-fi 6 (also known as 802.11ax which is the newest Wi-Fi standard) routers are coming out near end of this year, compatible devices will not be available till next year. This will result in a lack of support until then.
Hence for this year, we will choose best router on the prevailing 802.11c standard instead. This is the TP-Link Deco M9 Plus router.

It is a mesh router that uses multiple nodes to improve your home's Wi-Fi coverage. It also has a built-in smart home hub that can control compatible smart gadgets such as smart hubs and smart lights.

While this concept is similar to last year's Samsung Connect Home mesh router, the Deco M9 Plus offers better wireless performance.

It also includes Trend Micro's software for parental controls and security.