There's a new series of best smartwatch in town and the features are getting better and better with each generations of its series.  The smartwatches besides telling time, comes with key health features, longer battery life and activity trackers.  Wearing a smartwatch is more than just about style anymore, it could be a potential lifesaver (for those that comes with monitoring of blood pressure, heart rate alerts and even blood oxygen tracking).
With plenty of options on the market, it becomes quite difficult selecting the best smartwatch for your needs. That is why in this article we have reviewed some of the best ones on the market for an easier buying decision from you.  I have also list down the latest smartwatches which are suitable for different budgets.
If you want to skip all that, the best overall is Apple Watch Series 6.
A Spotlight On The Best Smartwatch
Reviews of The Best Smartwatch:
New Apple Watch Series 6 (GPS, 44mm) – Blue Aluminum Case with Deep Navy Sport Band –

Best Overall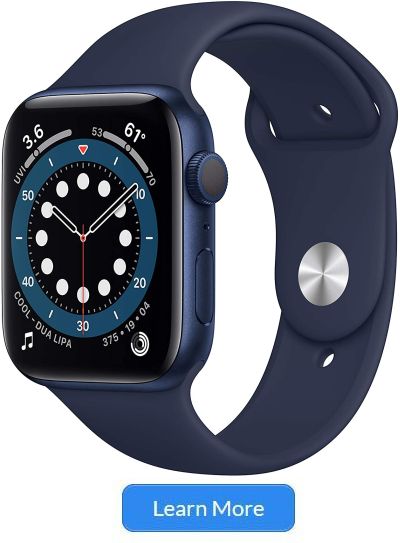 The latest offering in the Apple watch series looks like its predecessors and you can use your current Apple Watch bands with it.
The new watch does have several upgrades, including a faster S6 chip, an always-on altimeter and a brighter display for easier viewing in sunny conditions. It can also now measure the oxygen level in your blood, also known as SpO2.
With watchOS 7, the Series 6 can now track sleep but unlike its competitors, it does not do so automatically. You have to set the sleep and wake time. Also, it records only your sleeping hours – with no breakdown of light and deep sleep.
But in terms of step tracking, the Series 6 does a superb job. The readings are very close to those of my personal calibrated Apple Watch Series 4, with a mere difference of 50 steps. On my usual 5km jogging route, the GPS-tracked runs by the Series 6 are only around 10m to 20m off.
A big downer is the battery life. The battery level drops to 50 per cent by the end of a day, so you probably should charge the watch before you go to bed.
It is still the best smartwatch for intuitive interface and capable fitness features. Unfortunately, it is also the only smartwatch available here that does not support Android phones.
Samsung Galaxy Watch 3 (45mm, GPS, Bluetooth, Unlocked LTE) Smart Watch with Advanced Health monitoring, Fitness Tracking , and Long lasting Battery – Mystic Black (US Version) –

Runner-up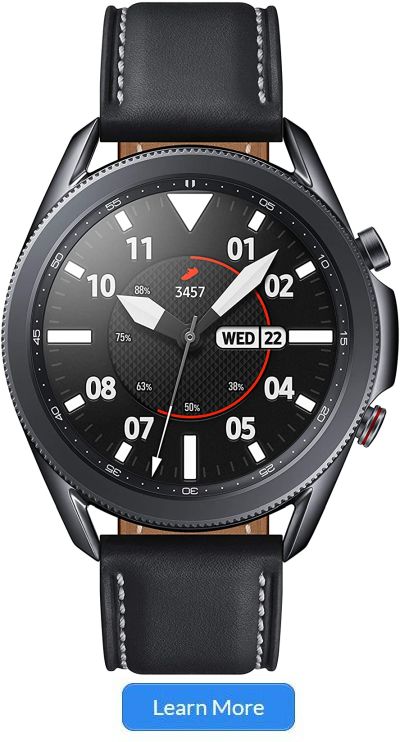 The Samsung Galaxy Watch3 retains the gorgeous looks of its predecessor along with the series' unique rotating bezel.
This bezel lets you navigate the smartwatch's interface without blocking the display. And by turning it, you can easily scroll through the watch's Tizen operating system.
When connected to an Android phone, notifications appear as tiles that you can tap on.
The watch can measure SpO2. But its electrocardiogram measurement – found in the Apple Watch Series 6 – is not available here yet, as it is pending approval by the authorities.
Unlike the Apple watch, this device automatically tracks sleep and sleep quality.
Step tracking is really accurate. The watch registers only 1.5 per cent more steps than my Apple Watch Series 4. On my jogging route, the GPS tracks only 50m more than the actual distance.
The watch has around 30 per cent power left at the end of two days.
Fitbit Sense Advanced Smartwatch with Tools for Heart Health, Stress Management & Skin Temperature Trends, Alexa Built-in, Carbon/Graphite, One Size (S & L Bands Included) –

Contender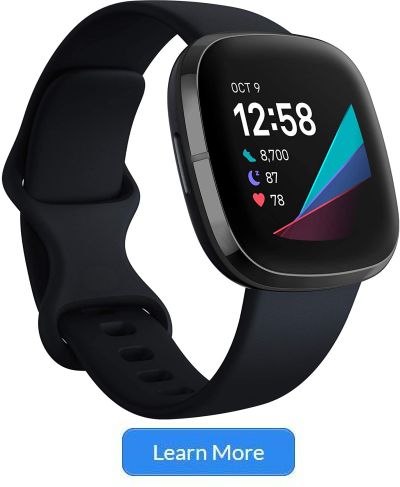 Fitibit's new flagship smartwatch looks no different from the previous one, the Versa 2. But it now comes with a stainless steel, instead of aluminium frame.
The Sense features built-in GPS, can estimate your SpO2 levels and is the first smartwatch to have an electrodermal activity (EDA) sensor, which tracks the body's response to stress.
To take a EDA reading, place your palm over the entire screen – touching all four sides of the device – for two minutes. This reading will combine with your heart rate, heart rate variability and sleep patterns to give you a stress score (lower means more stress).
I find Sense's sleep monitoring to be spot-on. It accurately pinpoints my sleeping and waking times, and shows the different sleep stages – rapid eye movement (REM), light and deep sleep.
The step-tracking function measures up to 6 per cent difference from my Apple Watch Series 4. But the distance it records is only around 60m shorter than my 5km route.
Rated to last six days on a full charge, the watch has 20 per cent battery life left by the end of five days.


Amazfit T-Rex Smartwatch, Military Standard Certified, Tough Body, GPS, 20-Day Battery Life, 1.3" AMOLED Display, Water Resistant, 14-Sports Modes, Rock Black –

Best Outdoor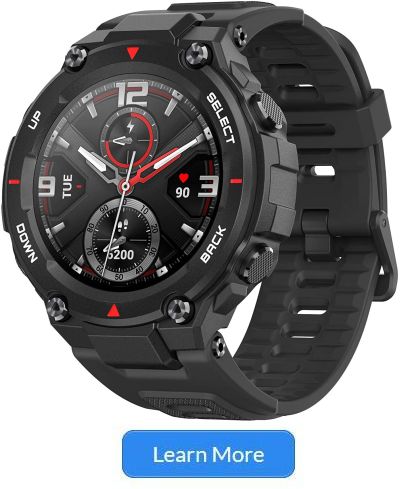 The rugged Amazfit T-Rex resembles a Casio G-Shock. While it looks bulky and can stand some punishment, it is relative lightweight at 58g (with strap). The display is big and bright, comfortable to see under bright sunlight.
The watch, runs on its own operating system, has an interface that is less intuitive than those of its competitors reviewed here. It also does not support SpO2 measurements.
In terms of step-tracking, readings are about 4 per cent off from those of my Apple Watch Series 4. For GPS-tracked runs, its readings for my usual 5km route are up to 250m off.
Reviews of its sleep tracking are mixed. My sleeping and waking times are accurately recorded. While the watch shows the duration of my different sleep stages, I find the awake timings to be too long – sometimes 30 minutes – when I do not even remember waking to go to the toilet.
The best part about the T-Rex is its long battery life. It lasts 20 days on a full charge with three 5km GPS-tracked runs.
Garmin Venu Sq Music, GPS Smartwatch with Bright Touchscreen Display, Features Music and Up to 6 Days of Battery Life, Slate –

Best Fitness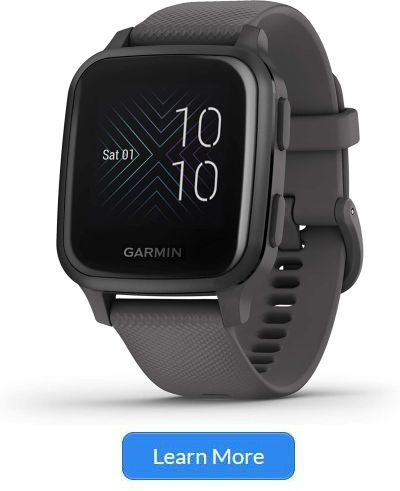 This is an affordable smartwatch with great fitness tracking capabilities. It comes with an optical heart rate sensor with SpO2 tracking, built-in GPS workout tracking and stress tracking.
Design-wise, the Venu Sq looks like a "mini" Apple Watch without a rotating crown but two buttons on its right. But it is lightweight and comfortable to wear.
But it does not offer much as a smartwatch. For instance, you cannot tap on notifications to expand to view. Also, there are very few watch face options.
But the Venu Sq is pretty accurate for fitness tracking. For step-tracking, its readings are only 80 steps off my Apple Watch Series 4. For GPS-tracked runs, its readings are only around 120m shorter than my route.
Sleep tracking is disappointing, though. It is unable to pinpoint the time I sleep and wake accurately. Sometimes, it does not automatically track sleep at all.
However, its battery life is better than many of its competitors', dropping to only 30 per cent at the end of three days.


HUAWEI Watch GT 2 Pro Smart Watch 1.39 inch AMOLED Touchscreen SmartWatch, 14 Days Battery Life, Heart Rate Tracker, Blood Oxygen Monitor, GPS Waterproof Bluetooth Calls for Android, Nebula Gray –

Best Battery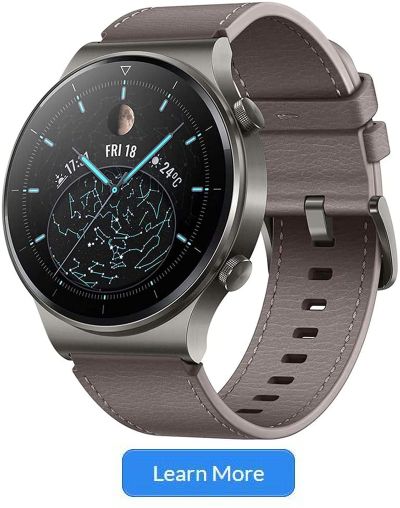 Launched just this month, this smartwatch is a premium version of the fitness-centric Huawei Watch GT 2e released in May.
The GT 2 Pro come with a sapphire glass display with a titanium frame and ceramic back. It exudes the same premium feel as the Apple Watch Series 6, but at a much more wallet-friendly price. It even comes with a SpO2 sensor as well.
It runs on Huawei's LiteOS operating system, which is intuitive and almost as refined as Apple watchOS 7.
Its step-tracking readings vary by only around 3 per cent from those recorded by my Apple Watch Series 4. On the GPS-tracked runs, the distance readings are off by only 100m.
But it is in sleep tracking that the GT 2 Pro really shines. It knows the exact time I go to bed and wake, even the time I get up to use the toilet.
The app shows sleep cycle graphs that break sleep patterns into deep, light and REM sleep, which provide insights into sleep quality.
Battery life is excellent, with half the juice left after a week of usage.
Buyer Guide For Best Smartwatch
A smartwatch is like a small computer which you can wear on your wrist. Some of these watches can be synchronized with a lot of other devices like a smartphone through a Bluetooth connection.  So if you are going to buy a smartwatch, we suggest that you consider the following factors first before making your buying decision.
1. Know your budget
First of all, you should know a maximum budget for your purchase. Do note that the more features you see in a smartwatch, typically it will cost more.  However, here's the good news.  If you notice, recently the price of smartwatch is coming down already and you will definitely be able to find one that will fit your budget.
2. Battery life
Typically, smartwatches are equipped with rechargeable batteries. However, the backup time varies between models. Also, the type of features will also increase or decrease the battery life. For instance, if you have a model that comes with advanced sensors, heart-rate monitor, and a big screen, you may run out of power pretty soon.  When not in use, the display of the device would be turns off automatically to save the battery life.
3. Internal Storage
The majority of smartwatches come with plenty of storage space. Ideally, you may want to go for a model that comes with at least 4GB of internal storage. This will allow you to keep more records on the device and not run out of space after one or two day.
4. Wi-Fi
This is another great feature of a smartwatch. If your watch is wi-fi enabled, you can connect to the internet and get important notifications on your gadget.   This will also enable you to link to your smartphone hotspot easily if required for any latest update at the convenience of your wrist.
5. OS and Hardware
Your smartwatch should be compatible with all versions of Android and iOS. It is important to keep in mind that Apple smartwatches will only work with Apple iPhone. They won't be compatible with Android. So this should be kept in mind when making your purchase.  Your current smartphone will determine which smartwatch you can select.
6. Health Monitoring Features
It is a good idea to opt for a smartwatch that can help you to monitor your heart rate. This will help you to track your fitness progress on a regular basis. For those who runs, having a smartwatch with built-in GPS will be very useful.
7. Water-Resistance
Make sure the unit you are going to get is splashproof. However, that doesn't mean you can swim in a pool while wearing the smartwatch. Usually, these gadgets come with a depth limit. If you cross that limit, the water will get into your watch and damage it.
8. Cellular Connectivity
Personally this is not a must-have for me. With this feature, you can surf the internet and catch the latest alerts.  But on a small watch screen, this is not appealing to me.  If I really need to connect to the internet, you can link your smartwatch to the hotspot on your smartphone.
In short, if you are looking for a best smartwatch, we suggest that you look for one that offers the features we have highlighted in the buyer guide above.
Concluding Remarks
Buyers are often spoilt for choice when picking a suitable best smartwatch  that is worth the value. All the brands reviewed in this article have various feature that set one apart from the others.  Choose the one which is suitable for you.
If you want to have the best overall smartwatch, Apple Watch Series 6 is the one to go for.
For best outdoor smartwatch, Amazfit T-Rex Smartwatch is a clear choice.
If you are looking for best fitness smartwatch, go for Garmin Venu Sq.
Related Best Smartwatch Resources