The SanDisk Extreme Pro E80 portable SSD (Solid-State Drive) is designed for photographers and videographers who need portability, durability and performance.  It comes in a rectangular aluminium unibody case with rubberised exterior. With a footprint that is slightly bigger than a credit card, this sleek-looking SSD is 10.2mm thick and weighs a mere 79 allowing it to easily fits into any backpack pocket. Plus, it has a hole at one of its corners for you to thread a carabiner (not included) through, so you can carry it outside your camera bag for quick access.
Great protection features
It has an IP55-rating for protection against dust and water, and is shock-resistant against drops from up to 2m high – good for photographers who are always battling the elements. It also comes with five years of warranty.
Format and software
The SSD comes pre-formatted in the exFAT format, which means it is compatible with both Mac and Windows machines out of the box – great for someone who works on both platforms. But you can always re-format it to the format you prefer.
It also comes with a free security software called SecureAccess that lets you set up a 128-bit-encrypted data vault to store your valuable data.
Connectivity
However, the SSD has an exposed USB-C port that does not have a cover. Thus, it is probably resistant only to water splashes and not submersion.  In addition, it does not have an activity indicator light. Having one would have helped a lot, by allowing users to know whether the SSD is connected or if a transfer is ongoing.
Two cables – a USB Type-C to C and a USB Type-C to A – are included, with the latter useful for laptops that do not have a USB-C port.
Performance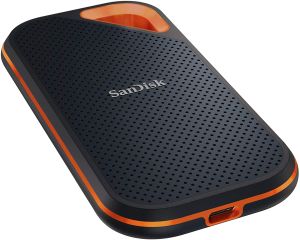 Supporting the USB 3.1 Gen 2 interface, the SSD is supposed to have a maximum performance of up to 1,050MB/s.
To test the SSD, we connect it to my 2018 MacBook Pro and Windows gaming rig. In the Mac-only BlackMagic Disk Speed Test benchmark test, the SSD achieves a maximum writing speed of 953MB/s and a maximum reading speed of 922MB/s.
In the Windows-only CrystalDiskMark benchmark test, it achieves a sequential read speed of 463MB/s and a sequential write speed of 466MB/s.
For a more practical test, we transfer a folder containing 56GB worth of photos and videos from a MacBook Pro to the Extreme Pro. The transfer is completed in 89 seconds – that is amazingly fast.
Conclusion
This is available in capacities of 500GB, 1TB  and 2TB, you may find the Extreme Pro is priced a bit on the high side.  However after comparing all the features and its light-weight, as a photographer, my inclination is this SanDisk Extreme Pro E80 portable SSD is a great SDD to carry around whole day.
Pros
Rugged, sleek-looking case.
Works with Mac and Windows machines out of the box.
Fast transfer speeds.
Five-year warranty.
Cons
Expensive.
Water resistance could be better.
No activity indicator light.
SanDisk Extreme Pro E80 portable SSD
Fast Transfer at very Light Weight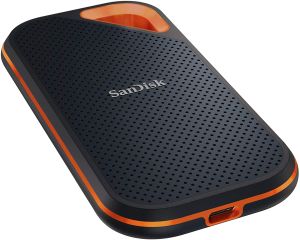 Capacity: 500g, 1TB, 2TB
Interface: USB 3.1 Gen 2
Weight: 79g
Thickness: 10.2mm
Maximum Transfer Rate: 1,050MB/s
Cables provided: USB Type-C to C; USB Type-C to A
Software Included: SecureAccess
Check Price
Related Resources To SanDisk Extreme Pro E80 portable SSD